The str Senator Cordill has quite a history.  According to Way's packet directory, on 27 Jan 1903 the str Senator Cordill participated in the anniversary when the Yazoo River put Vicksburg back on the river.  In 1920, str Senator Cordill was sold and put in the Pittsburgh Charleston trade.  In 1929 str Senator Cordill was purchased by the Ohio River Transportation Co and put in the Pittsburgh Cincinnati trade.  The following travel brochure indicates that the steamer had been "catering to tourists for six years" which means that the river tour document was issued between the years 1926-1929.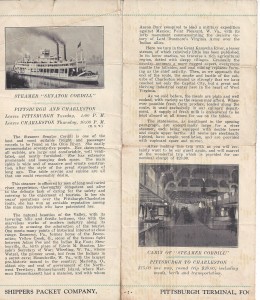 One of the points of historical interest was "the scene of the famous fight between Adam Poe and the Indian Big Foot".
Another reason this particular packet is important is that Frederick Way, Jr was its master-pilot in 1931 and pilot in 1932, 1933, and 1934.  The str Senator Cordill sank in Dam 14 on 5 Feb 1934.  The pilots at the time were Wilsie Miller and Fred Way, Jr.  It was unclear who was at the wheel at the time of the incident.
Copyright © 2014 Francis W Nash
All Rights Reserved