Georgetown Ferry
The Georgetown Ferry has a long history.  The ferry was locally known as Dawson's Ferry or Smiths Ferry depending upon the name of the owner/operator at the time.  Although crossings of the river at Georgetown by early trappers and traders had occurred well before the first pioneer settlers arrived in the area, the earliest documented report describing a ferry was in 1794 when the troops from Burgettstown crossed the river on Dawson's Ferry and marched along the Tuscarawas Trail to join Gen "Mad Anthony" Wayne.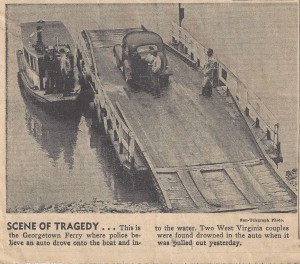 In about 1817 Jesse Smith purchased the ferry boat from Benjamin Dawson who had originally operated it.  The ferry changed ownership frequently between the two families.  At one time it was owned by William Semple who used the name William Semple Ferry Company.  A stagecoach line, traveling with mail and passengers, ran from Pittsburgh through Georgetown, crossing the Ohio River by ferry at Smiths Ferry, on through the country into Calcutta and Lisbon, Ohio, to a destination in Cleveland, Ohio. The stagecoach was one of the means of transportation of the early settlers. [1]
The first Georgetown ferry was a raft that could carry horses and buggies across the river.  A cable and strong arms pulled it across to Smiths Ferry; the current helped to return it to Georgetown.  In modern days, the ferry was a gas-powered boat on a swivel so that the boat could push the ferry in either direction the thousand plus feet.  The ferry capacity was eight cars and its crossing time ten minutes.  Pedestrians could cross the river by ferry, then hop a street car to Midland or East Liverpool or Beaver and then catch a train to Pittsburgh.   
The Georgetown ferry ceased operations in 1949 after a gruesome accident.  Two couples from Newell, WV on a Tue night drove their 1939 sedan across the ferry entrance into the river. The river stage at the time was high – 15 1/2 feet.   The two couples were not discovered until Sat.  When the gently falling river reached 12 feet the ferry scraped the top of a submerged object.  That object was the car of the missing couples from Newell.
After more than 150 years, the Georgetown Ferry ceased operations because of the accident.  That accident also ended Georgetown's connection with the Ohio River.   Today, the steps to the ferry landing are long gone, but the cobblestone road extending from Market St to the bank of the river remains.
References.
[1]  Julia Peck, Smiths Ferry, Milestones Vol 22 No 2, Summer 1997.
Copyright © 2015 Francis W Nash
All Rights Reserved