Str Amelia Poe
The steamer Amelia Poe was named in honor of the daughter of Thomas Washington and Martha Jane Poe born in Georgetown, PA in 1852.  The trim sternwheel packet built in Georgetown, PA and finished in Pittsburgh in 1865 (165′x27′x4'5") was designed specifically for Missouri River commerce.  Her capacity was rated at 328 tons.  Capt Thomas W Poe was her first master and principle owner. [1]
Not large by design, the str Amelia  Poe was a typical Poe family steamer.  The Poe brothers believed that boats of moderate size yielded a better return on investment.  Costing less and more shallow in draft, Poe boats could run when the river level was too shallow for larger craft.  That logic  increased the number of paying trips each season.  Good profits over the years proved their reasoning correct.
Her maiden voyage in 1865 was a trip to Nashville, TN for a cargo of pig iron for John Kyle in Cincinnati.  Later in 1865, the Amelia Poe commanded by Thomas S Calhoon, steamed up the Red River in Louisianna.  Thomas S Calhoon remained as clerk on  several trips to St Louis from Cincinnati while Capt Thomas Poe tested the handling of the boat before making  a proposed trip to the upper Missouri in the spring of 1866.
In the spring of 1866, some 51 boats, including the Amelia Poe, started from St Louis for the upper Missouri.  Only 32 docked at Ft Benton.  On Jun 11, 1866, the Amelia Poe arrived at Ft Benton with 200 tons of freight and 40 passengers. [2] Downward freight and passengers were unrecorded.
Most of the officers were Georgetown men.  All lived within walking distance of Georgetown Landing:
Thos Poe                     Captain
JQA Parr                     Clerk
TS Calhoon                Clerk
Jacob Ewing             Engineer
George Calhoon      1st Steward
Thomas Conkle         Cook
Other officers and crew members aboard the Amelia Poe on Tuesday, 20 Mar 1866 according to the Log Book of Thomas S Calhoon were:
Engineer                JW Crawford
Pilots                      Wert Asby
Wm Howard
Indian Interpreter                John Saville
Mate                      Jesse Huff
Watchmen            Jos Green
Geo W Hughes
Carpenter              Geo Fields
2nd Steward           Saml Golding
Chambermaid      Ellen Fields
The Amelia Poe departed from Georgetown landing on 13 Mar 1866, departed from Cincinnati on 20 Mar arriving in St Louis on 25 Mar.   The date of departure from St Louis was 30 Mar arriving in Ft Benton at 3:30 PM on 11 Jun.  Seventy-three (73) watery days!
That season the average fare per passenger was $150 and freight landed a prize of 10-12.5 cents per lb.  Considering the upward cargo only, Thomas W Poe's gross earnings were approximately $56,000.  In 2007 dollars that amount would be equal to $1,120,000.  The lure of huge profits was great as were the risks of the upper Missouri.  Compensation for the steamboat officers was also very rewarding.  In 1866 on the Ohio River, a pilot could earn $175 per month, a captain $150, and a first clerk $150; on the Missouri River, their counterparts received $725, $400, and $250.[3]
An advertising card for the Amelia Poe in 1867 stated:  
Ho for the Gold Mines
The Montana and Idaho transportation Lines will give through bills of lading for Ft Benton, Helena, Virginia City, and all points in the mining districts.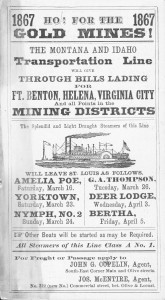 Montanna and Idaho Transportation Line Boarding Pass (The Ken Robison Collection)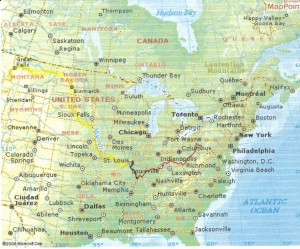 Even with the boom of the gold rush wearing off, the year of 1867 was another busy season in the Montana trade.  More boats arrived than in 1866.  The Amelia Poe was the tenth packet to dock with 183 tons of cargo and 50 passengers.  The down trip carried 25 passengers.  The rates for passengers and cargo are unknown.  No doubt the trip was deemed a success even if the rates were lower due to the increased traffic.  [4]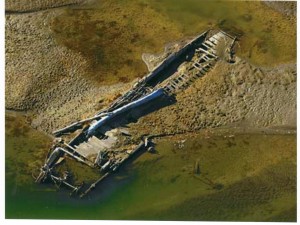 Str Amelia Poe wreckage on Upper Missouri River (The Montana Standard 09 Nov 2002)
In 1868, the Amelia Poe again steamed to Ft Benton.  On May 20, 1868 Amelia Poe passed Ft Buford without stopping.  Loaded down with a quartz mill for the Montana mines and a cargo of whiskey and other liquors, she snagged near Oswego, MT on May 24 attracting 1,500 swarming Indians in a riotous salvage operation.  The location where the packet snagged and sunk is now known as Amelia Poe Bend.  Part of the cargo was saved by the steamer Cora and taken to Helena.  The Poe passengers were carried to Ft Benton by the steamer Bertha.  The quartz mill was stowed ashore, and as late as 1927 was still visible. [5]  Although the principle owner of the Amelia Poe was Thomas W Poe, her captain was Thomas Townsend at the time of the wreck.  Joe Fecto nd George Hughse were the pilots based on an entry in the log of the Bertha on Monday, 25 May 1868. [6] 
Most of the cargo was saved and taken to Helena, MT.   Some machinery, the quartz mill equipment, was put ashore where it remains to this day.  The loss was reported to be $72,000.  [7]  There is no recorded evidence that Thomas W Poe was aboard.  It is more likely that he was captain or pilot of the Ida Stockdale that season.
References.
---
[1]  Frederick Way, Jr.,Way's Packet Directory, 1848-1994, (Ohio University Press, Athens 1994), p. 99.
[2]  Joel Overholser, Fort Benton World's Innermost Port, (River & Plains Society, 1987), p. 54-59.
[3] William E Lass, Navigating the Missouri/ Steamboating on Nature's Highway, 1819-1935, (University of Oklahome Press,2007), p 234.
[4]  Joel Overholser, Fort Benton World's Innermost Port, (River & Plains Society, 1987), p. 60-65.
[5]  Joel Overholser, Fort Benton World's Innermost Port, (River & Plains Society, 1987), p. 68-69.
[6]  Collections of the State Historical Society of North Dakota, Vol II, Tribune State Printers and Binders, 1908, p 353.
[7]  Dr EB Trail, Steamboat Arrivlas at Fort Benton, Montana,  Montana Historical Society Collection, Vol I, State Historical Society of Missouri.
Copyright © Francis W Nash
All Rights Reserved