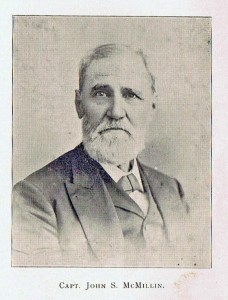 Capt John Smith McMillin was born on 23 Jul 1817 in Georgetown, PA.  During the Civil War, he achieved considerable fame for fearlessly running the batteries at Vicksburg as the owner and master of the steamer Silver Wave.  He was also an inventor. In that role, he was awarded a US Patent for the invention of the steam-powered capstan.[1]  The capstan patent was a Letters Patent No 63,917, granted on 16 Apr 1867 to John S McMillin for "an improvement in applying steam-power to the capstans of steamboats and other craft". [2]
The steam-powered capstan patent was contested in court in at least two cases.  One suit, McMillan[3] v Rees[4] (17 OG, 1222), was filed against John S McMillin to "restrain the infringement" of the patent.  The circuit court opinions issued in both cases were not in favor of Capt McMillin.   The capstan patent was declared void "for want of any patentable invention".  The basic arrangement of "shafts and cog-wheels" of the capstan was unchanged.  In the case against McMillin, the argument was that the modification to steam power did not warrant the issue of a patent because there was no "ingenuity of merit", only the "ordinary judgement and skill of a trained mechanic".   Capstans and steam engines were old technology, well known elements used in many places including grist mills and steamboats.      
Capt McMillin appealed the decisions.  On 17 Nov 1884, the Supreme Court of the US decided:
Upon the ground stated, we think the letters patent upon which the suit is based are void.  The decree of the circuit court by which the patent was sustained must therefore be reversed and the cause remanded with direction to dismiss the bill, and it is so ordered.  [5]
The history of the patent process was long and curious.  The first application for the patent was filed by Capt McMillin on 23 Jul 1855.  This application was rejected.   On 7 Feb 1856, the application was amended.  This amended application was also rejected.  Eleven years later, the application awarded the patent included the drawings and specifications of the first application unchanged.  The steam-powered capstan had been in wide use for more than a decade without any new state of the art developments or improvements.   That was the defense relied on to defeat the patent in court.              
More research is required to determine whether John S McMillin was demanding royalties from other steamboat owners and lines. 
Notes and References.
---