When widow Parthenia Parr died on 20 May 1866, she left five young children.  Her husband, Capt Joseph MC Calhoon, had died on 21 Apr 1855 in Alton, Il a victim of cholera.  Since Parthenia Parr was a half sister of Capt George W Ebert and Mary Ann (Ebert) Poe, the children were divided between the two Ebert families.  The oldest boys, Thomas Franklin and William Albert Calhoon, lived with Capt Ebert and his family.  The twins, Joseph MC and Parthenia Parr Calhoon, moved to "The Poe House" with Capt Jacob Poe and his family.  "Aunt Parthenia" never married and lived her entire life in "The Poe House" with Jacob Poe, and then his son Charles Edgar Poe, and finally his daughter Lillian May Poe.  The oldest son, George W Calhoon, had come of age by 1866 and apparently chose not to live with either Ebert relatives.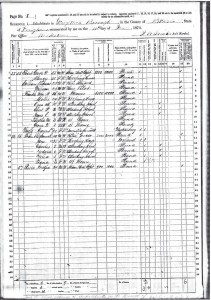 This Census 1870 Report dated 11 Jun 1870 lists the members of the Capt Ebert home. Twelve people were under roof although both Thomas Franklin and William Albert were working on the river as a steward and pilot respectively.  Neither Thomas Franklin nor William Albert would have spent much time in Georgetown so the over-crowed condition was not truly severe.  The twelve household members included Capt Ebert and his wife Nancy Ann Poe, the two Calhoon boys, John A Trimble and his wife Mollie Ebert with their five children , and one servant.
No comment of the wealth of the household.  The values declared by Capt George W Ebert and his son-law-law, John A Trimble, approach $1M in 2015 US dollars.. Today my sister, Judy, and her husband, Nick Maravich, own the property.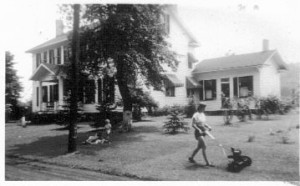 Copyright © 2015 Francis W Nash
All Rights Reserved
No part of this website may be reproduced without permission in writing from the author