Gentleman Charles E Poe
Charles Edgar Poe was the son of Jacob Poe and Mary Ann Ebert.  Born on 28 May 1854, he lived his entire life in Georgetown, PA.  More precisely, he lived his entire life in The Poe House in Georgetown.  He died on 19 Mar 1939 and was buried in the Georgetown Cemetery.
The original Poe house (built ca 1823) had four rooms.  In 1879, seven more rooms were added including a kitchen attached in the back.  There was quite a contrast between the two sections.  The old part was put together with wooden pegs.  Even the slate roof rafters were pegged.   Each room had a fireplace.  In the 1970′s when the wall paper was removed in a hallway connecting the two sections, the names of three Poe boys were found with the date 1879 scrawled on the walls.  One pane of glass in a kitchen window was etched with "C. E. P. 1879".  [1]
On 28 Oct 1890, Charles Edgar Poe married Mary Ellen Lyon, the daughter of Samuel and Louisa Lyon.   Samuel Lyon was a chief engineer on many Jacob Poe steamboats.  Charles and Mary Ellen, also called May, had one daughter, Lillian May Poe who was born on 6 Sep 1891.  Mary Ellen Lyon died on 26 Feb 1899.  Charles, or Charley Poe as he was known to everyone, remarried.  His second marriage to Anna M Carson on 28 Dec 1905 produced no children.
After his father's death on 13 Mar 1891, Charley and Mary Ellen took over The Poe Household, although his brother, George WE Poe, who was a steamboat pilot, also lived in the house till his death in 1943.
Charley Poe did not work on the river.  Rather he built a large stable and became a livery man and freight hauler from Georgetown landing to as far as Pittsburgh.  Many local stories are told of Charley Poe and The Poe House.  And in turn it was said that Charley Poe was a great storyteller.  Charley always wore a large gold watch and chain across his chest and sported a big diamond ring — the image and feeling of everyday luxury.  It was a look that suited him.
Billy Bryant in his book "Children of Ol' Man River" (republished in 1988 by The Lakeside Press) devoted a complete chapter to Charley Poe titled "Mister Charlie Poe".  In that chapter Billy Bryant states that "our next stop is Georgetown".  He describes Charley Poe as "one of the most fascinating River characters we have ever met…. He was practically a one-man government and Chamber of Commerce".  [2]  That statement was a feel good
compliment considering the length of Billy Bryant's entertainment career and the number of river characters he must have encountered.
Billy Bryant launched his first showboat, The Princess, in 1907.  His second riverboat, Bryant's Showboat, launched during WWI, endured floods, windstorms, dams, and all the river dangers till 1941 when it became a wharf boat.  Well known along the river for producing burlesque melodramas when the Bryant showboat landed in Georgetown, the Bryants and cast were always guests of Charley Poe.
A story about the livery business was told by a local resident,  Betty Mackall.  Betty and her mother rode the trolley to Smith's Ferry, crossed the river on a ferry pulled by cables, and then rode in a buggy drawn by four horses to Hookstown some four miles distant.  Betty always hoped that Charley Poe would be late so that she could listen to his daughter, Lillian May tell stories or play the piano.  As they made the trip to Hookstown, Charley Poe would entertain them with stories as he tapped the horses with his whip and checked his gold watch to ensure he was on schedule. [3]
Another story told about Charley Poe was an oil drilling tale.  A man brought nitroglycerine in his buggy for the drillers in the Georgetownfields.  It was too cold to leave the horses outside so he drove them into the livery in the middle of town.
When Charley learned the explosive was in his livery, he demanded the man move it.  Lillian was a young girl at the time started to leave to visit neighbors.  Charley told her to stay.  If the neighbors knew what they were sleeping with tonight, they would hang him in the morning. [4]   Nitroglycerin was used to "doctor" ailing oil wells.  A charge was lowered into the well casing and discharged.  If the results were good, a listless well would begin to produce.
Most towns did not care to have a nitroglycerin in their vacinity.   Making the explosive was tricky enough, but transporting it was trickier yet.  Making it was not complicated, just a kettle to brew it in, the nitric and sulfuric acids to put in it, a paddle to stir it, and a man "who had lost all interest in life to do the stirring".  See the biography of George WE Poe for another nitro story.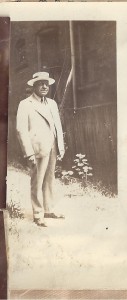 A true gentleman of his time, Charles Edgar Poe was a pillar of the Georgetown Methodist Church.  His grandmother, Elizabeth Hephner Poe was credited with founding the Methodist community in the very house where Charley lived his entire life.  It was said that whenever he returned from a trip on the river, he would bring small gifts – one for every child in Georgetown.  A generous lively character – a long life well lived
.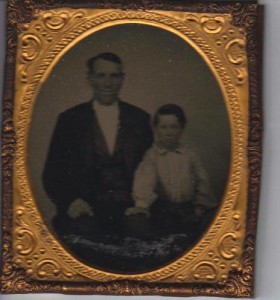 References.
---
[1] Lula Welborn, Poe History, Self-printed, 1974.
[2] Billy Bryant, Children of Ol' Man River, (The Lakeside Press, Chicago, 1988).
[3] Lula Welborn, Poe History, Self-printed, 1974.
[4] Lula Welborn, Poe History, Self-printed, 1974.
Copyright © Francis W Nash
All Rights Reserved