Andrew Poe
The term "Frontier Fighter" is a label that can not be worn by many men, at least not to the extent of the Andrew Poe and his younger brother Adam Poe.  Andrew Poe earned the title through great personal sacrifice.
Born on 30 Sep 1742 in Lower Palatinate, Germany, Andrew Poe emigrated from Germany to America with his parents and older brother and sister in or before 1746. [1]  The Poe family settled near Frederick, MD.  At age six shortly after the family arrival in America, Andrew was baptized in the Evangelical Lutheran Church in Frederick, MD on 28 Jun 1749.  At age eighty on 15 Jul 1823, Andrew departed this life in Greene Township, Beaver Co, PA.  He witnessed historic events during his eighty years.  His wife of forty-three years, Elizabeth Rutan, was born 25 Sep 1758 in Essex Co, NJ and died 13 Jan 1839 in Hookstown, PA.  They married during the Revolutionary War on 15 Jan 1780 in Williamsport on the Monongahela River.    Together Andrew and Elizabeth had eleven children – nine girls and two boys.  Both Capt Andrew and his wife Elizabeth are buried in the Mill Creek Presbyterian Cemetery near Hookstown, PA.
Family Background.  The story of the Georgetown Poe family begins with the emigration of George Jacob Poe from the Palatine Region of the Rhine River to the Maryland countryside near Frederick, MD about 1741.  George Jacob Poe, Sr, Andrew's father, was murdered by an indentured servant in 1762.  He had owned a plantation on the east side of the Antietam Creek in what is now Leitersburg, MD.  There he operated flour mills and marketed his products in Baltimore.  It was along the road to Baltimore that George Jacob Poe Sr was shot in the stomach by his servant.  Money was stolen and the servant was never heard from again accrding to Capt Adam Poe. [2]
In accordance with the English law and custom of primogeniture, Andrew's older brother George Jacob Poe Jr inherited the entire estate by Right of Primature.  According to some accounts, George Jacob Poe Jr was a hard master.  After Andrew attained his majority, he left the MD farm across the newly constructed Cumberland Road in 1764 and went to Ft Pitt.  There he honed his skills as a woodsman and scout at the conclusion of the French and Indian War. [3]  In 1768, he acquired some land near Harmons Creek in what is now Washington Co, PA.  Then that land was also claimed by VA.  After living in the Pittsburgh area for five years, Andrew settled on Harmons Creek with John Crist and Andrew Rankin and cleared the land for farming.  The tract of land was approximately twelve miles from the Ohio River.  
In the spring of 1772 Andrew returned to MD and persuaded Adam, who was five years younger, to join him in PA.  He also invited his sister Catherine.  Both Adam and Catherine moved to the Harmons Creek property.  Physically, Andrew was a strong, athletic, tall man for his day.  According to his son Adam's description in correspondence to Lyman C Draper in 1849, Andrew was 5' 11.5" weighing 205 lbs.  "a man of great strength and being very quick and active, he feared not to compete with any man". [4]
Adam  was smaller than his older brother, but equally fearless and fierce.
Revolutionary War Service.  When the war with England broke out Andrew enlisted with the rebels.  He served as a Private in Capt Kidd's Company and LtCol James Marshall's (also spelled Marshel) Regiment.  On 5 Oct 1775 he was listed as a Sergeant on the payroll of Capt George Vallandigham's Company at Ft Pitt.  The battles Andrew participated in against the British regular troops are unknown.  Thomas Poe Sr told his son Adam that his father Adam and his Uncle Andrew would not comment on their famouus Indian fight unlless they had been drinking a little "gin and tansy". [5]  Adam Poe the steamboat captain describes in great detail his granduncle's Revolutionary War service in his book without naming the campaigns . [6]  That description is exciting.  What is clear is that Andrew was a scout and participated in many expeditions against the Indians who were constantly crossing the Ohio River to attack isolated pioneer settlers.  For his service Andrew Poe was given a commission by Gov Patrick Henry of VA. 
On the western front of the Revolutionary War, Andrew served with Gen Lachlan McIntosh and Capt George Vallandigham combatting the British-led Indian incursions.  That time on the western PA frontier was a period of desperation – a low point of the War for American Independence.  Terror struck daily.  Houses were burned; farm animals destroyed; and everything of value was carried away; captives or scalps were taken according to the customs of the tribe.  The Delaware, for example, only took prisoners for the purpose of torture. 
On 30 Sep 1781, Capt Andrew Poe led his militia in the famous chase of the Wyandot raiding party that had attacked settlers along Raccoon Creek.  One (3 killed per Kuffel) settler was killed; one taken captive.  At least eleven acounts of that chase and fight have been published.  In each acount, details differ.  All are worth reading. [7]
Six of seven Wyandots were killed.  One militia man was killed and two wounded, one severely wounded.  The captive was injured by a tomahawk strike whie attempting to escape during the fire fight.  The most important part of the story begins where facts end and legend starts.  The account by Andrew's son, Adam, written to Lyman C Draper is the most authenic version.  "Indian Fighter"  Adam Poe's daughter Sarah Poe (born 15 Jul 1791 and wife of Adam Kuffel) provided a similar account that confirmed details of the celebrated fight with Bigfoot.  Andrew was severely injured in the fray and expected to die.  He never recovered the use of his right arm due to a tomahawk strike.  The blow cut through one bone of his wrist disabling all his fingers but the forefinger, according to the letter to Draper dated 6 Jan 1849.
In his correspondence with Lyman C Draper from 1849 to 1852, Andrew's son Adam penned a detailed description of the hand-to-hand combat and the brutal life of frontier families.  What could make a better story?
The importance of this little campaign was the great display of bravery in a desperate time.  Seldom does a conflict prove so fatal to the great proportion engaged.  That conflict was only one instance of astonishing bravery and self-sacrifice displayed by Andrew Poe throughout his mitary service.
Post Revolutionary War.  Following the war of independence, Andrew was a Lieutenant of the Mill Creek Fencibles with whom he took part in expeditions against the Indians despite his injury.  Several of these expeditions are described in the Lyman C Draper Manucsripts. [8]
Indian warfare on the southside of the Ohio River continued unabated until 1794.
Sometime after the Revolutionary War, according to famly folklore, a Wyandot warrior named Rohnyenness was sent to Andrew oe's home in Washington Co to avenge the killing of Bigfoot.  Poe treated the Indian with great hospitality and invited him to stay overnight.  After Poe was asleep the indian arose to kill him.  After thinking of his warm treatment, his heart failed him and he could not exact revenge.  In the morning he left for his home.  This story was to Rev Finley, a Methodist missionary among the Wyandots. [9] 
Andrew traded his farm on Harmons Creek to James Matthews for land near the Ohio River in now Beaver Co near Georgetown.  Local lore suggests that the tract of land called Poe Wood was a a patent granted  by the Commonwealth of VA to reward his service during the Revolutionary War.  Either way Poe Woodwas registered on 24 Jun 1784 via a VA warrent.  When Poe Wood was first surveyed it was in Washington Co, PA.  It contained 333 acres, was ¾ of a mile from the Ohio River, and adjoined the properties of Robert Laughlin and William Matthews.  Andrew Poe built a blockhouse on his property where local people would "fort up" in times of Indian troubles.  According to a 1923 report from a Poe family reunion, the Poe blockhouse was still standing in 1923.
Adam also selected land to improve near Georgetown and registered it as  Poesville.  Poe Wood and Poesville, the land patents of the Poe brothers, were in the direct path of almost every Indian raid on that exposed section of the "western frontier".  The Poe brothers participated in the chase of every raiding party.  The imposing site of the Poe brothers made the other settlers feel more secure.  After the indian Wars, both Adam and Andrew resumed to the uphill process of farming.
Andrew Poe lived his remaining days in his home near Georgetown, PA.  The tomahawk recovered from the Bigfoot fight was handed down through the Poe family.  It was last reported in the possession of Ms Mabel (Poe) Dantel of Cleveland, OH, a geat-grandaughter of Andrew Poe, in 1926.  In the Tri-State area surrounding Georgetown, Andrew was known as Capt Poe to all.  All school children in the area know to story of the Poe brothers and Bigfoot.   On 15 Jul 1823 Andrew died of Dropsy.  (Dropsy was essentially cardiac failure caused by the acumulation of fluid in various body cavities.)  His Last Will and Testament was recorded on 29 Jun 1823 in the Beaver Co courthouse, WIill Book A, page 174.  Ten of his children are listed as heirs.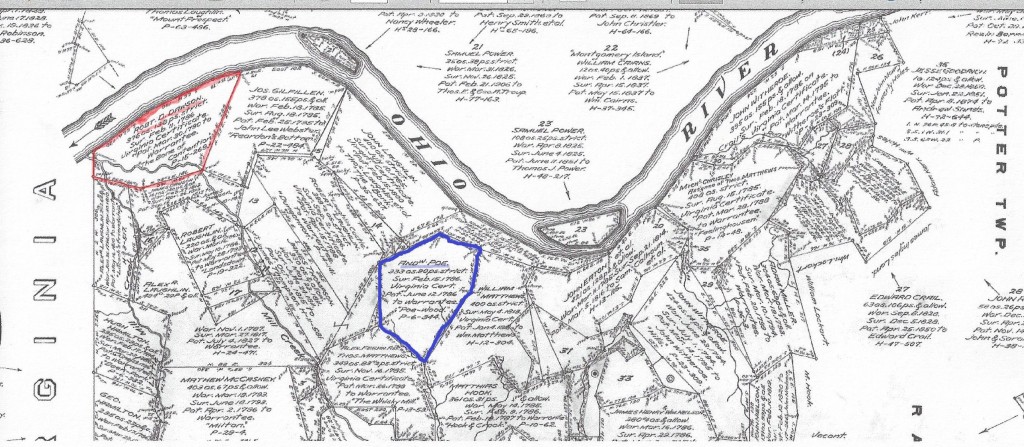 Poe Wood (WarranteeTownship Map: Greene Township Beaver Co courtesy of the PA Archives)
 In 1850 Poe Wood was sold to steamboat Capt Jacob Poe by the heirs of Revolutionary War Capt Andrew Poe.  The Poes had a sense of the importance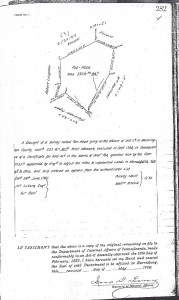 of history, especially family history.  The property's current disposition is unknown.  The stone building purported to be the Poe fort either collasped or was taken down, but no longer exists.  If it was a fort, it was the Andrew Poe family blockhouse rather than the public fort in Georgetown manned by Continental troops. 
Summary.  None of the pioneer settlers along the Ohio River won as much fame as Indian Fighters as the Poe brothers, Andrew and Adam.  From 1777 to 1784, they were the first and most fearless responders to Indian raids.  The story of their fabled fight with Bigfoot is still heroic although it evolves into something different with every telling.
References.
---